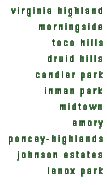 About Us

We treat your property like our own.



Old-fashioned individual attention and service.



Detailed cash flow statements with vendor invoices.



Always up-to-date on issues relating to property management.



Single Family Residential Specialists
We make investing in real estate painless and profitable by supervising every detail in a professional and conscientious manner. We are up-to-date on market conditions, housing trends, and applicable issues affecting real estate. We maximize rents while minimizing vacancies by securing the best possible tenants, and maintaining above average property standards. Single family homes are our business, our expertise.

Property Manager / Gary S. Chad
Gary S. Chad formed Property Consultants in 1991 to fulfill the need for an intown residential property management company. With knowledge in all aspects of leasing and management, he brings his professionalism, expertise, and sound planning to effectively service your investment. Property Consultants is a member of the National Association of Residential Property Managers, and the Atlanta Board of Realtors.


As required by the Georgia Real Estate Commission, this website is under the direct supervision of the qualifying broker of Property Consultants, Inc. 1756-A Century Blvd, NE Atlanta, Georgia 30345 U.S.A.